1315 N. 17th Street
Mt. Vernon, Illinois 62864
(618) 242-0300
  
Brandon McPherson,
General Manager
Brandon is a home grown Mt. Vernon Ram. He grew up in a bowling family. Starting at a very young age Brandon immediately excelled in bowling and as he has grown a little older, joined the Nu Bowl youth bowling program on Saturday mornings.
Over the years Brandon transitioned from a youth bowler to an accomplished tournament winning bowler. Brandon bowled all four years for the varsity team at Mt. Vernon High School, and then attended McKendree University where he again bowled all four years for a program that won the College National Championship in the 2016/17 season. Another major accomplishment is he graduated from McKendree with Degrees in Sport Management& Finance Degree.
This season Brandon will be named the Head Coach of the Boy's High School Bowling team as MVTHS.
As he enjoys all aspects of the sport and recreation Brandon enjoys coaching bowling to people of all ages and is Nu Bowl's Youth Director on Saturday mornings. Meaning that our very own youth program will be coached by a National Champion!
Brandon has worked in all areas at Nu Bowl from a Porter to a Cook to Front Desk staff to now has worked his way up to General Manager.
When asked what his top priority is Brandon said "to make sure each one of our customers receive the very best service Nu Bowl can offer to insure a great time when they are in this building. Our customers are our guests and we will treat them as such."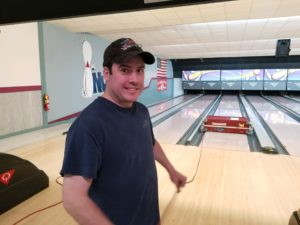 Doug Allen,
Head Mechanic
Born and raised in Cahokia, Illinois. Doug showed at an early age an interest in anything that is mechanical.  From a lawn mower, to a dirt bike, or a go cart Doug loved to work on anything mechanical and to understand not just what made it run well, but to learn how to make it run even better.
Being an avid bowler Doug became fascinated with how a Pinspotter worked.   How the Pinsetter sends the ball back to the bowler and sets the bowling pins at the same time perked his mechanical curiosity to the point where he took a job as a Pin Chaser just to learn about the mechanical part of the game.
Before too long Doug worked his way up to head mechanic and attended AMF Pinspotter School to gain the in-depth knowledge of the workings of the Pinspotter. Soon after he attended Automatic Scoring school and formal training at the Kegel school of Lane Machines and Lane Maintenance.  "We not only owe our bowlers a fair bowling condition but a consistent lane condition." -Doug Allen
Starting in 2015 Doug was hired as the Head Mechanic at Nu Bowl Lanes where he makes sure "his" Pinspotters are running at a peak performance to ensure our customers have an enjoyable experience while they're here.
You can't miss Doug, he wears his Nu Bowl Shirt at work, but is known for his famous black Nu Bowl hat.  If you see him, please be sure to say hello.